OXFORD BOOT CAMP - STROLLER FIT CLASSES
OABC is pleased to bring Stroller Fit classes to Oxford! Stroller Fit is a 60-minute outdoor total body workout with intervals of body toning and cardio taught by Kendall Gregory, a certified instructor.
Modifications for all levels with options to power-walk or run - all fitness levels are welcome!
Whether you are a new mom or an already active mom, this class will challenge you to get in shape and stay in shape.

What kind of exercises to expect:
Cardio drills
Upper and lower body strength and training exercises
Body Toning
Core strengthening
Use of resistance bands, weights, cones, ladders, medicine balls and much more!
Plyometrics and endurance drills for advanced mommy boot campers

Realizing that moms at all stages are looking to target and combat post-childbirth problem areas, this all-inclusive program combines three-weekly small group classes of mixed intensity interval training (MIIT) and before and after fitness assessments/measurements if requested.
Moms must be/have:

at least 6 weeks postpartum natural birth
at least 8 weeks for a cesarean section
received verbal clearance from their physician to resume physical exercise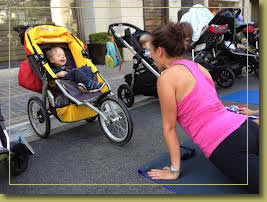 Expectations of Children:
must be 6 weeks of age thru 3 years old
remain in stroller during class time
mommies may tend to their children anytime during class as needed

Class Location & Details:
Classes are held at 10:00 a.m. on Tuesdays and Thursdays. Please check our calendar page for camp locations. After your registration has been completed, you will be sent an email with map & directions, as well as additional info on what to bring, and how to sign up for your pre-evaluation!
Weather Policy:
Stroller Fit classes may be cancelled in the case of inclement weather. Your instructor will make the decision to cancel class, typically no later than 30 minutes prior to the start of class. In order to find out if a class is cancelled please call: 662.801.0688. No refunds will be given for cancelled classes. Make up classes will be offered throughout the session.

** Classes will be held in light wind and rain, so please bring a stroller rain shield and dress yourself and your baby/child in layers for all classes.
You will need: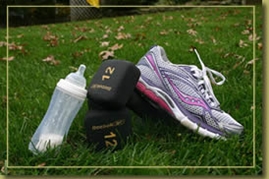 stroller for babies/toddlers (jogging strollers preferred)
mat (yoga mat okay)
pair of 5-8 pound dumbbells
good running shoes
healthy snacks, water or low-sugar juice for baby/toddlers
Levels: all fitness levels
Time: 60-minutes