COMMON QUESTIONS ABOUT BOOT CAMP
How do I sign up now?
Go to the registration page and fill out the registration form. At the end of the registration process, please follow the payment instructions to pay using your VISA, MASTERCARD, DISCOVER, or Paypal account. Once you have registered, you will receive an email from registrations@oxfordbootcamp.com. Please read the information and contact us with any questions.
What is the Pre Camp Evaluation?
The Pre-Camp Evaluation includes the following:
We will give you an introduction to Boot Camp and answer any questions you may have. We will also review your medical history and discuss any questions or concerns you may have.
We will give you a sheet for measurements to see where you are prior to beginning camp. We don't care what the measurements show. It's strictly for a post-camp comparison. These numbers and all other information will be held in the strictest confidence. Remember, the more consistent you are the better your results will be!
We will make sure you know how to get to camp in the morning so you don't have any excuses!
See you at camp!
I see that a particular camp just started! I just found out about it. Can I still join?
If the camp session is not already full, then absolutely. Many people are so excited about the boot camp program, they want to start right away and not wait for the next camp to begin. This happens often, so chances are you aren't the only one joining at a certain point. If you've already missed a substantial number of days, we can prorate the cost. Just fill out the registration form, and let us know that you want to join the camp already in session. If you missed some days we will normally have you register for the 3 Day option and make up the days you missed. We'll send an email invoice for the appropriate amount.
What do I need to bring to camp?
You will need to bring one set of 5 - 12 lb. hand weights and any type of exercise mat. You will also want to bring water to keep yourself hydrated during camp. Optional items are a towel to dry off with and gloves or mittens for cooler weather. Dress in layers and even if it is chilly don't worry - you will get warm very fast! And always bring a good attitude!
What if I sign up for the three day plan and then want to do more days of the camp?
After starting camp, many women realize how fun and convenient it is so they request to sign up for more days. In addition, they realize that the more days they attend camp the greater the results. In these situations, you will simply be pro-rated from the point you decide to join us for more days (Please contact the office for approval). Yes, you can choose the 3 days of each week. If the camp is turned into a 3 day camp only instead of 5 then the 3 days are Mon, Wed, Fri.
Will I be sore sometimes?
Most people feel some soreness for the first 2-3 days. After that point, it is slight to moderate. It's part of the process that lets you improve!
What kinds of people go to camp?...will I fit in?
They are people just like you. They range in age from 11 - 65+. Some have never exercised, and some are competitive runners looking to train for the next race. Some have over 100 pounds to lose, and some need to gain weight. They are a group of people who want something better for themselves. They want results, they want to feel great, they want to reclaim their energy, feel attractive and be the very best they can be. These individuals are looking to jump start their fitness and get fast results. They are determined and committed and many admit they were scared to sign up and get started, but later were SO glad they did!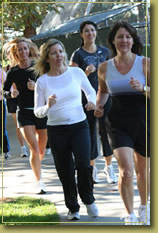 Is there a refund policy?
If you are unable to attend camp due to circumstances out of your control, we can offer you a refund if you notify us prior to your session start date. However we will charge a $65.00 cancellation fee or we can only give you a credit towards another boot camp that must be used within 1 year. It is your responsibility to show up, we will not freeze memberships because of personal mishaps, vacations, illnesses etc unless its absolutely debilitating or beyond your control. There are no make up sessions in another camp. This credit is nontransferable. Credit is not given toward private fitness training. There is no cash refund. This is not negotiable. If you are not happy with the camp by the end of the first week we will refund your money, however, if you choose to continue and not accept the refund then a refund will not be given at a later date.
What makes Oxford Adventure Boot Camps different from other "bootcamps"?
BEWARE OF IMITATORS! Adventure Boot Camps are one of the only truly Certified boot camp companies in Mississippi. Our trainers are specially certified to teach boot camp style training. Most boot camps are run by personal trainers who have a "personal training" certification and no special training on how to teach boot camp style training to people of all fitness levels from beginner to advanced. Some women with different injuries or high blood pressure etc. may need certain modifications and trainers without the knowledge or background may not recognize this.
What is a typical day like at camp?
That's difficult to say since each day is intentionally different to alleviate boredom. You can expect a combination of some light running, weight training, obstacle courses, core training, cardio, kickboxing, and jumping rope all into 1 unique program. It's a progressive program over four weeks. The workouts are specifically designed for women to get the most results in the shortest amount of time. On special days, we may take a field trip to a different location. It's always an adventure, and you'll always have fun! We teach you a great deal about proper form and "core stability."
How soon will I see results?
Performance improvement can take place in as little as three days. You will feel less bloated and more energetic in the first week. "Visual Improvement" can take from two to four weeks depending on your effort level and complimenting your workouts with healthful eating. It's becoming common to see a camper go down 1-2 dress sizes within the first camp. Remember, everyone is different!
What if it rains?
Boot campers are tough, so we boot camp in the rain. The only time we cancel camp is if there is lightning present. If you have any doubt, click the little weather icon in the top right corner of the home page of our website within 30 minutes of camp beginning to see any weather related last minute announcements. If camp is canceled, a make up day will be scheduled.
What will I do after camp is over?
You will get re-measured and tested to show your progress and success in the program. Many (up to 80%) of the campers enjoy the program so much, they never leave.
Any other boot camp stuff I need to know?
We understand that the summer and holidays are a precarious time in our campers schedules, therefore we require a minimum attendance (registration) of ten (10) campers to run a camp. If, for some reason, a certain camp offering does get the minimum registration, we will have other exercise opportunities for you to choose from. For example, we may combine one session with a another or you may join an indoor small group session. ALL options are in an attempt to make sure our product offering to you is the best possible!